News/Blog
2021 Fall Update - "The Twenty"
The Artists Attic, in downtown Lexington Kentucky, has an excellent show running through the month of October. If you're in town you should take the time to drop in. This is "The 20" show of which I am one. Twenty passionate and eclectic artist from central Kentucky will have their annual group show with the opening reception beginning on October 7 at 5 pm. The styles will range from abstract to impressionistic to representational and things in between. Great examples of water color, oil, pastel, charcoal and acrylic will be on display.

The Attic also has twenty permanent studio artists who will have open studios that night. Getting to see 40 artists all in one place at one time is a rare treat. I hope you can make it.
2021 Summer Update
"Should I stay or should I go?"...The Clash
Figurative drawing with a live model is on again at the SAV on the UK campus, but there is a caveat. I must wear a mask. I need the practice and the socialization. The mask, however, is really going to be hard to do and make art, at least for me. So we'll see.

Lora Lea Dawson, at The Artists Attic, in downtown Lexington Kentucky, has an excellent show running through the month. If you're in town you should take the time to drop in. She works in oil and acrylic in a representational style. Subject-wise she tells great storys about nature and the world around us.

I missed the paint-out of downtown Lexington sponsored by Arts Connect Lexington, at the end of June. I tried to work on the technique needed for the plein-aire event but failed in the studio to get the results I felt necessary. If it can't be done in the studio what are the chances it can be done in the 'outside world'? In the studio there are no bugs biting you (well maybe in your studio!) no problems with heat/cold, changing light, noise, panhandlers or tourists. I just need more practice and perhaps an entourage of assistants!


2020 Summer Update
"The Twenty", of which I am one, are having a reception for their 2020 group exhibition, this October 15th, 5 – 8 pm, at the Artists Attic. The Attic is located in downtown Lexington, Kentucky, at the Victorian Square.

Email me or any member to let us know to add you to the 'guest' list. This event is not open to the general public because of the 'pandemic'. We want you to come out of your basement and live again.

There will be a variety of styles and mediums. Expressionism, realism, impressionism, abstract and things for which I have no category. We have watercolor, oil, pastel, pen&ink, acrylic and on and on. You can see new landscapes, figuratives, still lifes and more.

"The Twenty", is an eclectic group of artists, who are passionate about making art. Some of the members are art teachers, some established professionals while others are 'emerging'. We even have signature members of art associations such as the Watercolor Society of Kentucky and the Oil Painters of America. See you there!

But Wait! There's more, as they say on the late night TV infomercials.

Okay…I have finally joined the 'modern' era. I now have an Instagram site . My daughter, just back from Korea, helped me set it up. I still don't know all the terms and protocols but I'll learn. In the mean-time if I insult someone they'll just have to get over it.

Apparently, people with 'smart' phones like to look up things on them and instagram is what they use. It seems to me they live their lives on those devices. I like to get pix of people's faces so I have reference material to draw/paint, but everyone has their face in a phone. If they don't they're wearing sunglasses and now, we have these accursed 'masks' because of the plague! The cliché for artists used to be the 'girl in a (red, green, blue, pick a color) komono' painting. Everyone does it at least once. I'm afraid it will now be 'nude in an N95', and we'll all be required to paint it! No doubt there will be 'sculpture' made of PPE and masks popping up at galleries when this is over. Anyway, I hope to post a new item to the Instagram account about every 7-10 days. Stay tuned…



2020 Spring Update
The whole world has gone crazy. The Wuhan virus has had everyone shuttered away from the rest of civilization. Artists, who work in isolation most of the time, have just kept working on and on. Eventually, however, we all have to crawl out of our 'holes'. I have been very blessed to have had two mentions in the news in the last six months. The first was from the LAL Kentucky Nude exhibit I mentioned in an earlier post. That article is by Natalie Weis in the digital arts magazine Under Main, 'Little to Provoke...'

The second mention is in the Lexington Herald/Leader WeekEnder '"Virtual Gallery: See Lexington Artists, emotions in their coronavirus work", May 12, 2020' written by Kevin Nance.

The virus has also thrown the art world into a predicament. Many galleries are having online exhibits. It remains to be seen how this will affect their sales or if they'll charge the same commissions. It's great to see art online, but seeing it up front and live with friends and a glass of wine is soooo much better. It will be interesting to see if they reopen with limited crowds or by 'invitation' only.

One advantage for artists during this period has been the 'studio time' they are enjoying. Most work alone and don't want to be disturbed. We should see a lot of art coming from this lock-up. Hopefully it won't all be depressing!


How to make a Snow Angel
I've never tried the 'glazing' technique of painting but I always wanted to attempt it. So, this last Christmas break I set up and began by working on a reference picture I took about two years ago.

My wife and I were at a local Christmas tree farm in 2017 and after we'd made our selection I noticed this little girl sitting by the fire. She was worn out. You could tell that her family had tramped over acres and acres of the farm looking for just the right tree. If you've ever shopped for a tree you know what I'm talking about. They're always too short, too fat, scrawny, bad spot, strange top and on and on. This little girl had nothing left. She was used up. But she looked content, happy and like she belonged on Santa's 'Good List'. As she sat there waiting for her cocoa I took a reference picture.

It's not easy to get good reference pictures of people these days. Everyone has a cell phone they're staring into, with their head down. Its almost a cliche to paint it now. Like a woman in a kimono, or a chicken scratching the ground or a cow. It appears that all artists are required to paint these at least once. I just don't want to do it, so when I see something like this I jump at the opportunity. You also have to be careful when you gather reference material as some people are touchy about it. In the case of this reference picture I'm not worried about the subject being recognized as I'm more interested in the pose and facial expression than an exact likeness.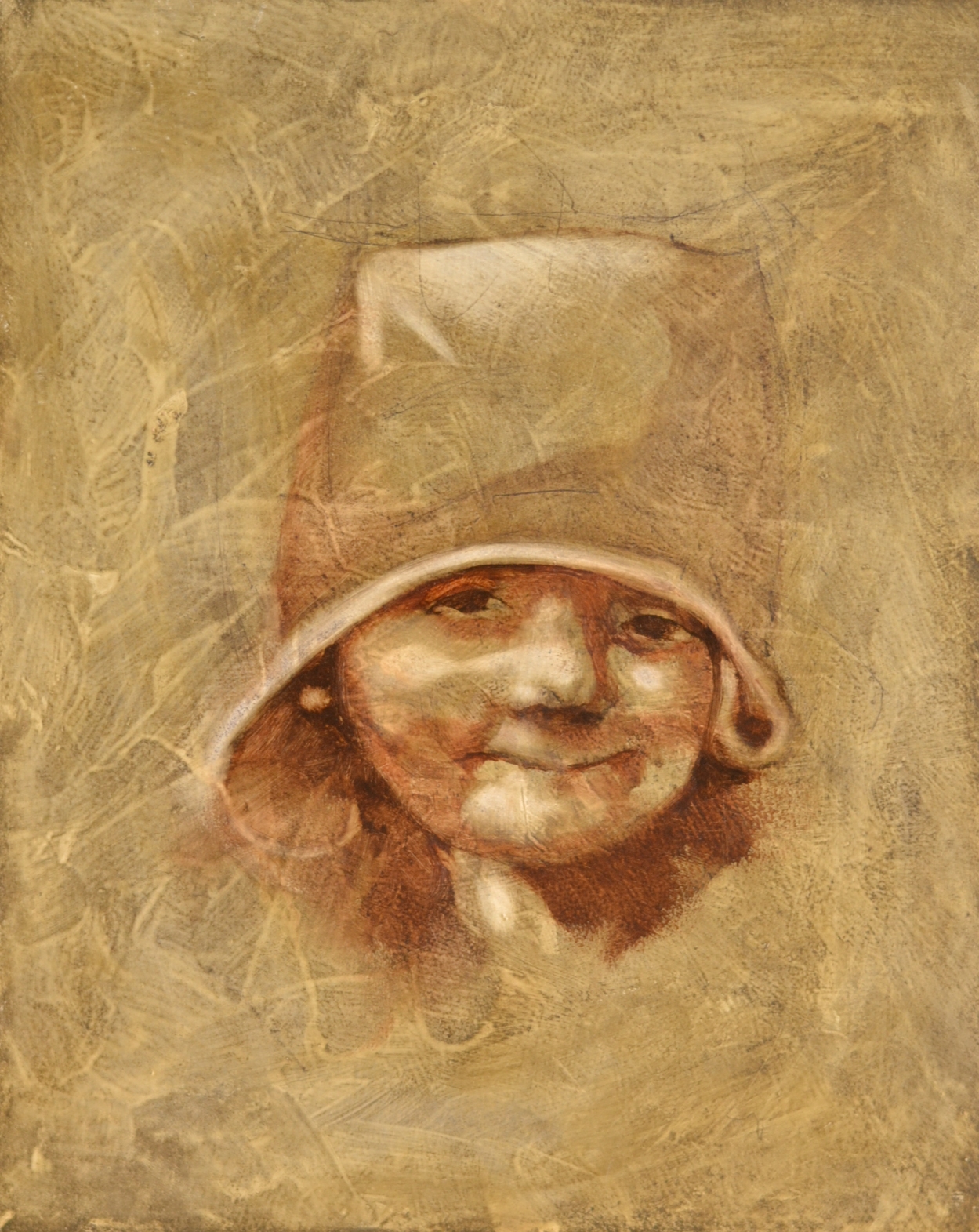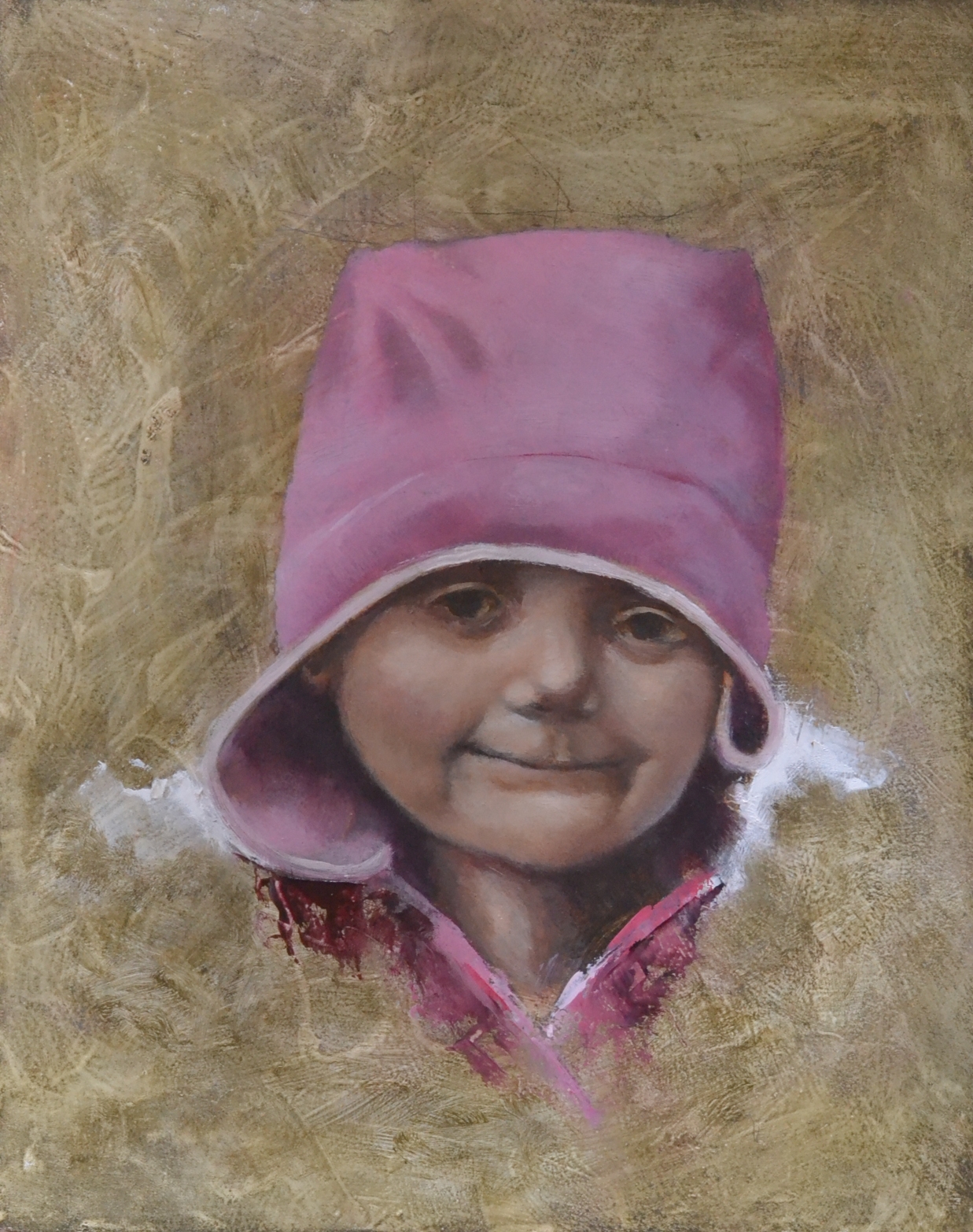 In the above images you can see the start with a monochromatic underpainting. It then progresses to 'Dead Color' over the underpainting. The 'Dead Color' in this case is white, raw umber, and black. The hat and flesh are next. The hat is not glazed but rather painted wet into wet paint. The flesh is built up with permanent alizarin crimson red and allowed to dry. Then over this I used a Zorn palette of color to build up the remainder of the flesh.

Between each stage the paint is allowed to setup. The last stage is the adding of some details. The support was a prepared masonite board that had been given a lead oil paint ground and toned with black and yellow ocre. The finished piece has a few more details inserted. After I let this set awhile I may change it some esp. the background.
Winter 2019
My wife and I dropped in on the Lexington Art Leagues "Kentucky Nude" biennial show last Friday the 6th. It was a large show with over 80 pieces by 50 artists from around the state. Every style imaginable was chosen by judges Helene Steene and Don Ament, both artists located in Lexington, Kentucky. As we were entertained by an excellent duo (cellist and violist), we met old friends and mingled with other patrons of the arts.

I saw a lot of art I liked but I especially enjoyed pieces by Heather Brunetti and my friend Larry Frost. They both are representational/realist oil painters and that style appeals to me more than the other techniques.

I was fortunate to meet one of the two buyers of my alla-prima nudes (shown below). She showed us her decorating plans on her phone and where the piece was to be used. It fit her color scheme and was a perfect match. There is a real sense of joy to know that a piece you created will go to a good home. It's a piece of you, the artist. It reveals something about you, your mood, emotions, troubles or triumphs.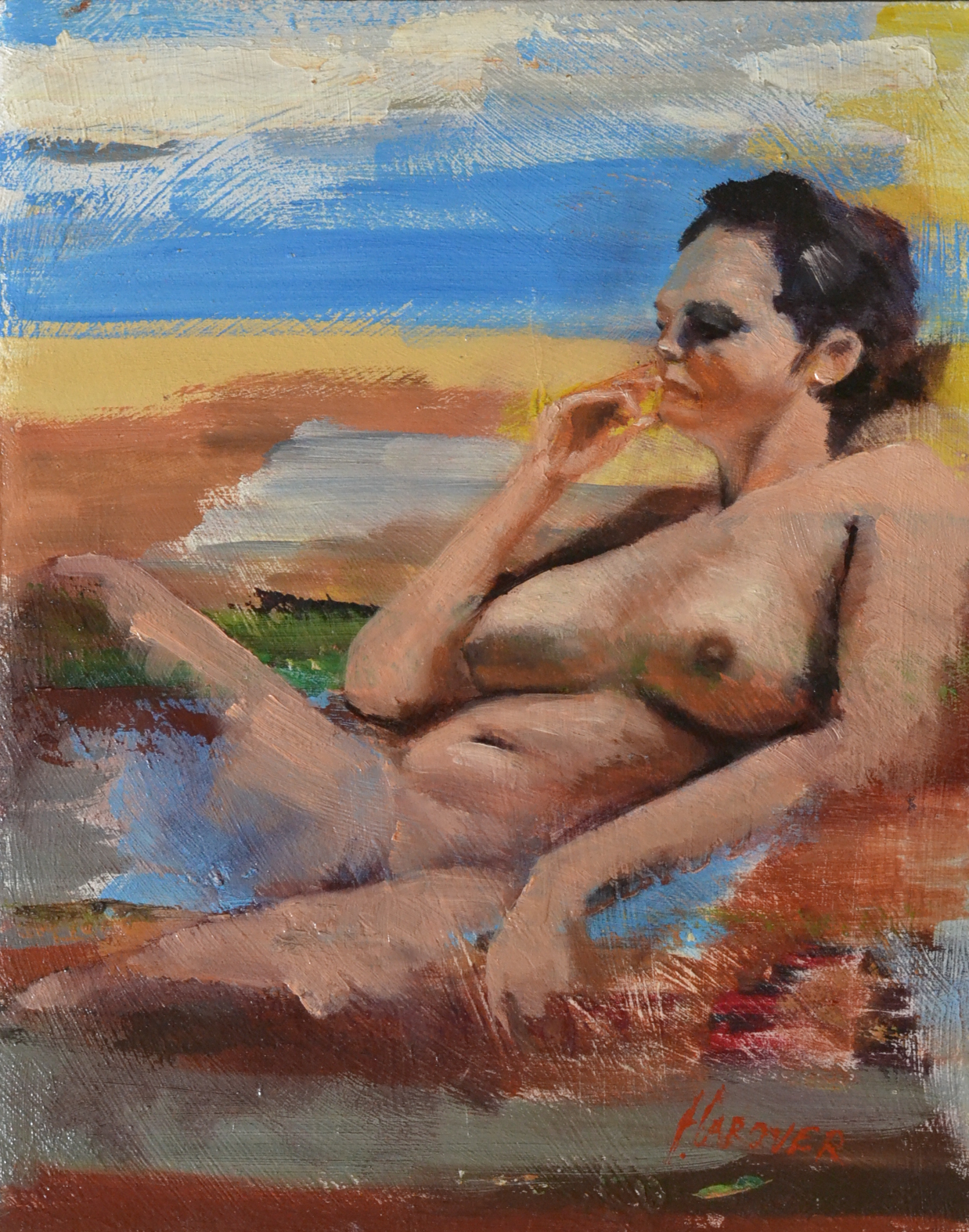 Alla prima painting is not easy. The pose only last for a short period of time. You have to make decisions about composition, line, values, color and perspective almost immediately. Once you begin you cannot really go back and change your mind. If you make a mistake at the beginning the piece fails. The pose is over. You can try again next week or month. I only get about one in ten pieces that I keep. It is, however, very rewarding to get to try. The challenge, energy, and anticipation of working in a studio with several other artists all at the same time is fulfilling. Everyone is in their own little world and yet we're each influencing each other, silently, with the occasional 'sigh', 'curse' or 'YES!' moment.

The exhibit is located at the historic Loudoun House, 209 Castlewood Drive, Lexington, Kentucky. It runs through January 5 and is free to the public.
Late Summer-Early Fall 2019
Summer in Central Kentucky has been hot and busy. I traveled to Blue Licks State Park in mid August and photographed several re-enactors of the last battle of the Revolutionary War. Each year they meet for three days and set up camp then relive the tragic battle between the Kentucky militia and the British backed Canadians and native American indians. I've got a lot of reference material and have already started painting. I hope I can get enough good pieces together to propose a show of the militia.

This October 10th the Artists Attic will have its second "The Twenty" show! 20 associate members of the Attic, of which I am one, will have a show from 5 to 8 in the Victorian Square Attic in downtown Lexington, Ky. This is a great time and place to take in art and even add to your collection. The studio artists studios will also be open so there will be a lot to see. Expect everything from abstract to representational. We'll have pastels, water color, oil, acrylic, charcoal and pen&ink mediums. Hope to see you there.
Spring 2019
To tell the truth, I have been busy and I have neglected this page. So...this is what has been happening: Last fall I attended the Portrait Society's regional workshop in Chattanooga Tn. It was hosted by the Townsend Atelier at 301 East 11th Street. I learned a lot from watching three signature members paint the same model at the same time, from differing points of view and with differing techniques. It was good to see the development of each work come along simultaneously. One of them used sight-sizing and a grid. One used the block-in method and another the envelope method. I met a lot of fellow artists and made some good contacts.

I also learned a valuable lesson...My wife told me I should take a self portrait of myself I had in the studio and have it critiqued at the end of the session by the Signature members from the Society. This was a free service but I was reluctant. I would love to be a portrait painter but I have a long way to go before I'm even in the same hemisphere with these artists. All the pieces the other attendees brought were high key, light and airy. The subjects were of little girls in white frocks, elderly women with flowers and loving couples. The brush-work was technically good and a lot of the pieces were hanging ready. My piece was 'Mr. Wickham'. It was dark and broody looking. Lots of Ivory black and alizarin crimson. The brush-work was rough. I actually had a couple of gallery patrons at my home gallery ask if I was going through a rough time in life when I painted it. (At least it evoked a reaction). The Signature members looked at my piece and were silent. One gestured to the other and each deferred to another one. No one wanted to say a thing. Finally one said it was an interesting use of black. At this point I'm sure my face was cadmium red. I know I was about one angstrom tall. But it was all my fault. It was not the style, technique or level of competence they are accustomed to critiquing. Lesson...make sure the piece fits the venue.

The Townsend Atelier is a wonderful place. They host classes and seminars and have an excellant supply of materials and equipment in their store. I bought two Rosemary brushes so I could see how they handled. The atelier is growing the arts community in Chattanooga and if you get the chance to drop in you should do so. It truely is an 'arts hub'.

AND......

In October I missed the Artists Attic Associates show because I was in South Korea. My wife and I traveled to see our daughter and spent about two weeks touring the country.
The South Korean people are very welcoming and make a heroic effort to understand what you're trying to say. I know about five words. Yes, no, the restroom (very important), hello, and thank-you.

There are not a lot of extremely old buildings or sites because of the wars and invasions Korea has seen. They have rebuilt some of the old forts and castles and have re-enactors dressed in period costume of which I took a lot of reference photos. I look forward to painting from them. It is also a sort of entertainment for the locals to dress in these period costumes, called 'hanboks'. They dress up like noblemen and princesses. The costumes are beautiful and of course I have a lot of reference material from these as well.

The countryside is similar to Kentucky's foothills and Bluegrass region. Interestingly enough, the city limits sort of truncate abruptly. When traveling you go from city to country. There's very little suburbia. Advertisements are plastered on everything and everywhere in the city. Seoul is just massive, alive, and crawling with people. Every square inch of land is used for something. Buildings are built to take advantage of the 'footprint' of each lot.

Food-wise they use a little pinch of sugar in almost everything they cook. And while I enjoy strange new foods, the pizza with cheese-cake and sweet corn topping was a little too far for my taste. There is a coffee shop in every nook and hole in every building. They make Americano, mostly poorly. I was craving a serious cup of Joe that had some attitude but it was hard to find.

They are plagued as we are with smart phones. Everywhere I looked people had their heads down looking at their phones. It was difficult to get reference photos of the people because they are all looking down. America is the same way. Everyone is absorbed by their device. I've never had a smart phone. My phone was old-school stupid. I could make and receive calls and texts. It died, I'm glad. RIP.

Getting around South Korea was easy and affordable. The buses are driven like 'wild horses' and seem to have any and all right-of-way on the roads. Taxis are plentiful and cheap (fixed rates) and the trains run on time. Mopeds abound and are riden dare-devil style like a 'TIE' fighter from Star Wars. They fly down narrow alleys at harrowing speeds dodging pedestrians and each other. Often they're stacked with produce and goods going where no delivery truck could get to. They deliver everything year round, including cheese-cake topped pizza and beer (ugh).

I'm hoping to do a series of pieces from the trip and I've been working on studies, such as 'Jeon Ju Farmers Daughter" in my portfolio section. I look forward to returning there, it was a very relaxing trip.
Early Fall 2018
The Artists Attic is having a reception this Friday, 9/21/18 for artists Dan McGrath and Yvonne Todd. Dan is the founder of the Plein Air Painters of the Bluegrass and specializes in landscapes and seascapes. Yvonne works primarily in the sporting arts. She frequently features horses, hounds and hunters. The studios and gallery are located in the "attic" of Victorian Square, in downtown Lexington. This show is a must see for everyone attending the Gallery Hop in downtown Lexington on the 21st, 5 to 8 pm.
AND......
On October 11, the Attic will host a reception for the "Twenty", of which I am one! The Attic has twenty associate members with a wide range of styles, techniques and material. Each artist will feature two to three works so there will a lot to see. These are all new works and the reception runs from 5:30 to 8:00 pm.
Late Summer 2018
I'm pleased to announce that I've been accepted into the Artists Attic Gallery in Lexington, Kentucky! (link above) It is an eclectic group of passionate artist from all over Central Kentucky. The studios and gallery are located in the "attic" of Victorian Square, in downtown Lexington. The media range from sculpture, water color and pastels to oils and the styles from abstract to representational. I've visited the gallery numerous times over the last few years and I'm honored that they have accepted my works. If you are a first time art collector or buyer this is an excellant place to begin your journey.
Late Spring 2018
A few years ago I visited the Palette & Chisel Academy of Art in Chicago. Its located on Dearborn street in an old mansion. A lot of great artists have taught and practiced there. They have very good programs, classes and workshops. Wishing to be associated with quality artists and programs I applied for an associate membership and have been accepted. I'm hopeful I can drop in on my next trip to the 'big city'. When I first visited I had my initial experience drawing from a live model. The other artists welcomed me and made me feel at home. Being from the south I had expected northerners to be rather 'cold' but they were great. I absolutely fell in love with the live model process. There is a real energy you pick up from the model and fellow artists. Time becomes extremely important. You have to decide what you can accomplish and make quick decisions. A link to their site is located at the end of the bio section below.
Fall 2017
The website has been upgraded with titles and some new pix. I'm trying to cull out the older stuff, alot of which is poorly photographed and doesn't reflect my improvements in technique. The email link has been changed in the code to hopefully deter spam-bots.

I'm very interested in the human figure and I attend a weekly figurative session to practice. Therefore, I have a lot more figurative pieces to post than still lifes. As I improve my technique I'm trying to work on the clothed figure. This requires me to work from photos of people as I can't bring a model home. The difference between a live pose and a photo is stark. The live pose is much easier to render/interpret. With a photo I'm trying to work from a flat example.

Many of my pieces are alla prima (painted in one session/seating). I may touch up something minor once I get back home but for the most part, what I have is from a live pose that no longer exists. You can't go back and do it over or try a different approach. This is a good challenge and I like the immediacy of the pose. Its a good kind of pressure. You're forced to make decisions and they can't be taken back. What you get is what you get. I toss out or paint over a lot of attempts.

I have had a few attempts at plein-aire painting. They are not pretty. I would say it is probably the most difficult situation you could possibly make art in. You have to contend with the moving sun, the insects, the heat/cold, the curious and the vastness of nature. I will try again but its not my highest priority as of this moment. Good plein-aire painters deserve our respect. They work very hard to bring the viewer to a foreign place and see something they would never get to visit, if only because we see it through their eyes.

I will work on some more still lifes to add to the collection in the near future. By having a still life set up I can alternate between finishing up a clothed/figurative and the sill life. This is something I've heard other artist do to help themselves stay 'fresh' and keep moving.
Summer 2017
I'm writing this on the last official day of summer (as if we can dictate the 'end' by decree?). Spring 'things' that didn't get finished around the house have been pushed into summer and what's left is going into the Fall. My daughter has landed a teaching job in South Korea, one son has gotten engaged and another is well on his way to finishing his degree. The 'nest' is almost empty!
My wife and I traveled to Cincinnati to the Eisele gallery to see the Oil Painters of America National Competition exhibit. This is about as good as it can get if you want to see the very best in representational oil painting in North America. The gallery did a great job of hanging the exhibit, and they have a well informed and courteous staff. The works of over 200 artists were shown. You could spend hours looking. Afterward we went down the road to eat at Mio's. Try the Pizza Florentine. They're a nice little family restaurant.
I have had a little time to work on my studio. I put up track lighting and that makes a big difference. I prepped several masonite panels with lead white paint and have found them to be great for painting. I just need more practice, practice, practice.
Spring 2017
The spring has been hard and busy. I had a a two month lay-over from an illness and accomplished little in art or for that matter in any area of my life. I lost my father on Father's day, after a long illness. He was a great artist. In the 1960's he attended the UK art school. It was during a time of great social unrest. The school's focus was on the abstract. Anything that was traditional or representational was discouraged. He had to develop artistically, on his own. We still have his works as he never tried to sell them, and in a way I'm glad we do. It gives me something to hold onto, to see what he saw in a subject and the way he interpretted it. I miss him greatly.